Simple and Complete
Ideal for your Business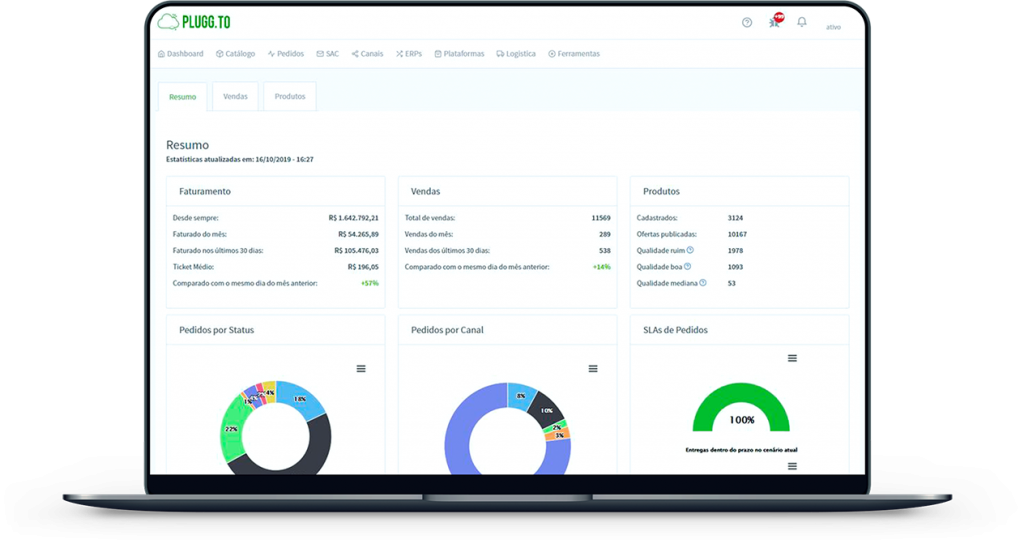 An extremely intuitive Hub, with intelligent, fluid navigation and at the same time delivering all the features your business needs.
Integration with your platform
Plugg.To intelligently integrates its stocks, products and orders among the largest marketplaces and all E-commerce platforms, PDVs and ERPs in the market.
Don't waste any more time with manual, repeated and unnecessary work. Sign up your products massively on each Marketplace quickly. Work with a single system and control your entire business and never sell product without stock again.
Here in the Plugg.To you have all the support of our service and support team, multiple price tables, multiple distribution centers or third-party stocks, so you can sell with complete freedom.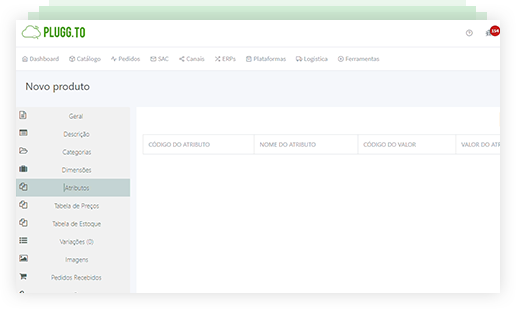 Product registration and enrichment
Each Marketplace expects to receive products within the requirements established by them, so it is almost always necessary to correct and further enrich their products. And to help you even more, we have created an extremely simple environment for you to enrich or correct your products quickly and conveniently.
Unitary Edition

Mass Edition

Product Filters

Error Reports

Images Importer

Kits and Grouped Products
Do you want to improve the registration of a specific product, or register some new products? Our catalog is super simple, complete and intuitive.
Need to bulk edit products at once? Here at Plugg.to you can do this by Excel spreadsheet in a few minutes all your products will be changed in your catalog.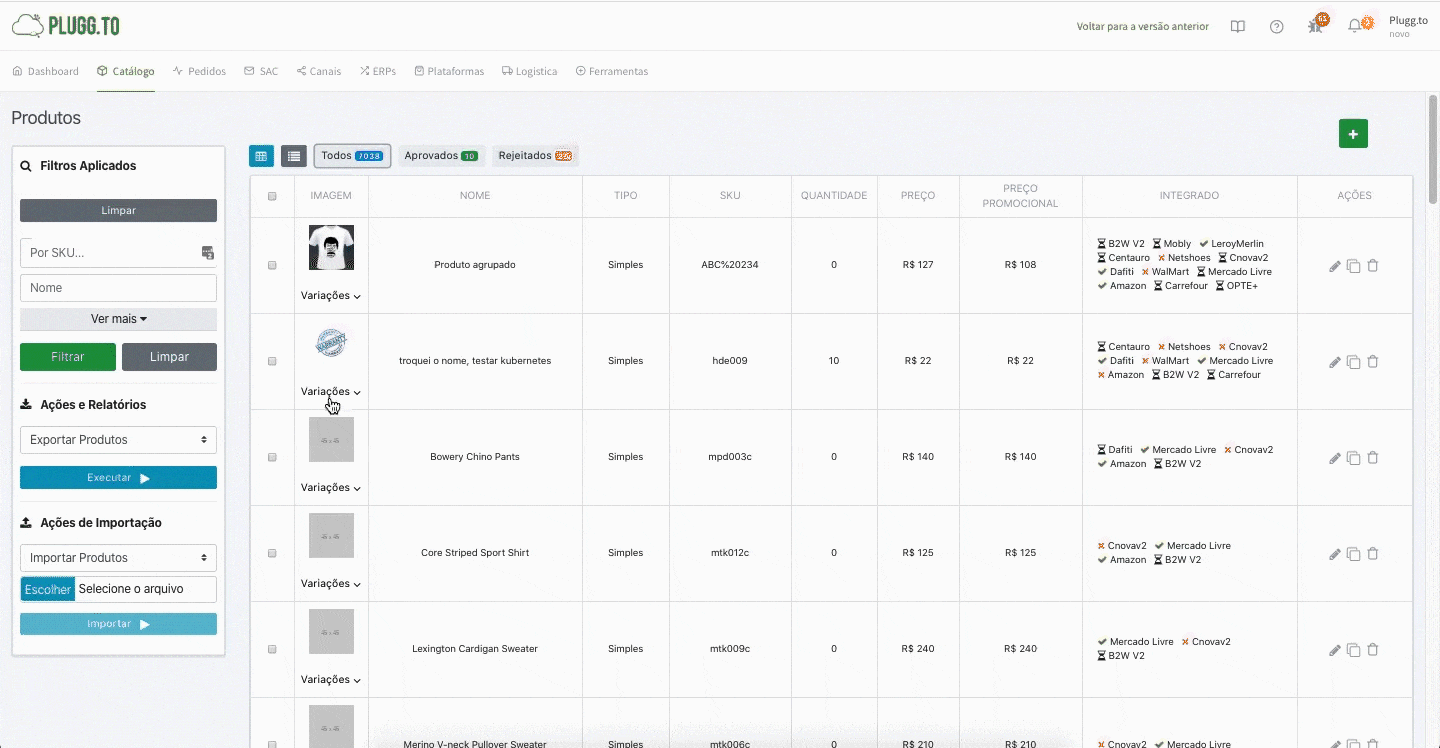 Quickly search for products that need to be enriched or even to find any other information about one or more products.
Check quickly and practically the products that were rejected by Marketplaces, make the correction and reshipped quickly.
Upload your images in a massive way in your catalog without having to insert it product by product. This tool also has a resizer to make it in the format that the Marketplace expects.
You can also register kits and / or bundled products. With Kits, you can create a Kit product with several products inside and boost your sales, or you can also create bundled products, a product with several variations in a single ad.
Never miss a view request again!
You will never again manage your orders in the same way.
Plugg.To receives in real time* your sales, centralizes and sends to your e-commerce or ERP platform.


If you wish, you can also manage your orders in our super sales manager, which has several steps, starting with the printing of separation list until the status of receipt by the buyer.


Our manager has SLA alarms, so you can quickly know any problems that may have occurred with an order.

Post offices
- Calculation of Online and Offline Shipping (if there is any intermittency with the post office server, freight will be calculated normally).
- Tracking delivery status, that way, the status changes of your order are automatically changed with the information received by the Post Office.
- Integrated with SIGEP WEB, make your product shipments quickly.
Freight table
Upload a spreadsheet to calculate the freight of any carrier, by zip code or state.
Freight Gateways
In addition to the post office and spreadsheet (carriers), we have integration with the largest gateways companies such as Intelipost and Frenet.
Product separation and shipping logistics
Stay on top of all stages of sales of your products, all processes are clear on our intuitive logistics screen.

Automation of billing processes
Plugg.To automatically updates your billing processes, making it easier to manage your business.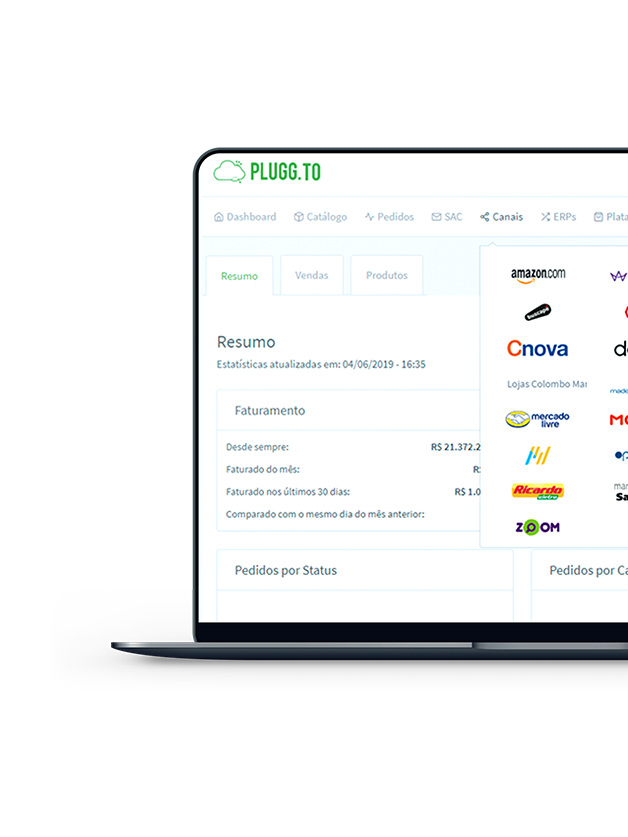 Issue invoices automatically, without generating any effort, and follow all the stages of your orders clearly! Reduce your dispatch time.
The order biller is aimed at retailers who do not need to have all the features of an ERP or who already have an ERP, but without the functionality of an invoice issuer for E-commerce.
Data is fundamental for you to have a vision of your business as a whole, that's why Plugg.To offers you incredible statistics about all your products and orders. Have the information at hand and create strategies to sell more and more!
Ranking

Business Intelligence

ABC curve

Consolidated Sales

Information by Marketplaces

And much more!
See the sales amount of each registered SKU or filter by marketplace.
Build the best strategies with the data provided by Plugg.To
Control your ABC curve and promote the right products.
Find precious sales information by day, month or period. See graphics by channel or SKU, you name it!
Find out which Marketplace is giving you the most results with month-to-month graphics and have easy access to the quantity of products and orders offered by channel.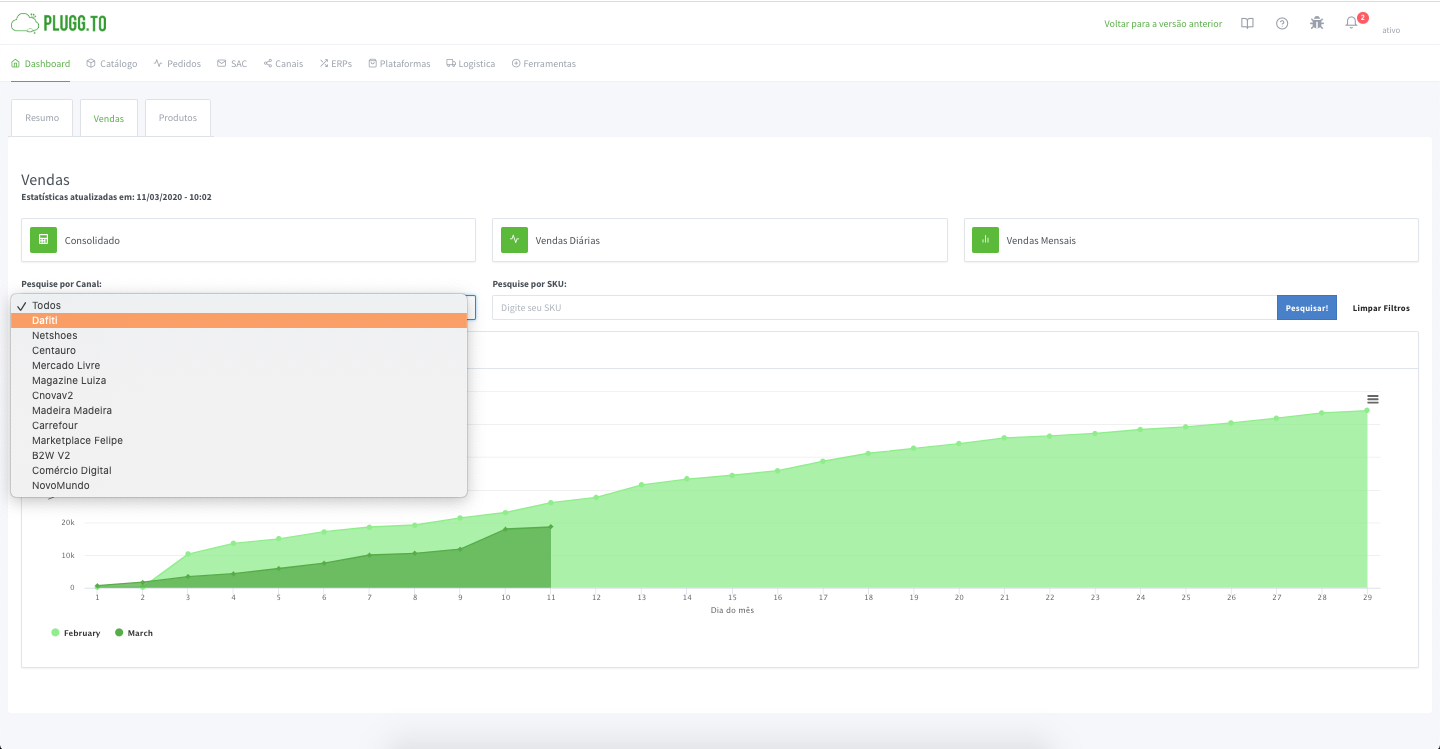 E muito mais
See other charts to increasingly improve your sales and guarantee your space in E-commerce!
Receive messages from your customers and respond immediately without losing your SLA. Manage your SAC through a single environment.
Alert
Color panel according to message and SLA priorities.
Better your SLA'S
With our message board, you can optimize your response time and can streamline your sales!
Increase your relevance
With a faster response, you can improve your ranking within the Marketplace and increase your revenue.
100% personalized consulting
Offering the best technology is not always enough to achieve success, with our complete consultancy, divided into modules, you will bring to your company all the knowledge necessary to make your online sales take off.
See the advantages of creating your own Marketplace with Plugg.To
Seller's approval

Product approval

Attributes To / From

Categories
Have full control of the customers that will exhibit in your showcase.
Also control the quality of these products, approve or reject products sent by customers.
Have the total flexibility to do to / from according to your attributes